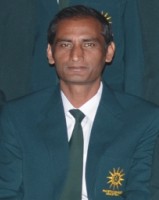 Venue:
                 ICC Global Cricket Academy Dubai.
Teams:
                 Pakistan Disabled Vs England Disabled.
Matches:              Two T-20, Three ODI'S.
Results:
              T-20 Series Won by Pakistan 2-0.
Results:
              Three ODI's Series Won by Pakistan 2-1.
I am Zafar Iqbal Head Coach (PDCA) and My Associate Mr. Fareed Uddin feeling proud to making this Tour Report of First Ever International Disability Cricket Series between Pakistan and England.

We are thankful to (PDCA) and specially their Hon. Secretary Mr. Amir Uddin Ansari, who showed his faith on us to nominate us as a Coaching Staff for this historical event.

GENERAL ASPECTS OF TOUR

DISCIPLINE:

Players discipline in the field and out site the field was excellent atmosphere of Dressing Room was brilliant. Players act like a team and supported each other well, roll of Assistant Coach Mr. Fareed Uddin was positive and supporting.

CLOTHING & EQUIPMENT:

Thanks to PDCA Management for providing us all the clothing and equipments which were up to the International Standard.

FOOD:

Catering during Net Sessions and Matches were more or less up to the International Standard.

TECHNICAL ASPECTS OF TOUR

PRACTICE FACILITIES:

Facilities of Practice during Tour were excellent and up to the International Standard. Practice Facilities really help us to overcome on the weaknesses and boost the confidence of the boys. Again thanks to (PDCA) and ICC Global Cricket Academy for providing us such an excellent facilities.

FITNESS:

Overall fitness of boys throughout the Series was excellent, the team Doctor played his roll very well. As a Head Coach, I was fully informed of the fitness of the boys and, I was receiving honest feedback from him.
VIDEO ANALYST:

Great, great facility provided by PDCA, in recent time no one can deny the importance of Video Analyst and, I am very thankful to PDCA, who provided us the top Video Analyst Mr. Shakir Khilji.

I believe as a Head Coach, where you work to bring the best out of your players, on the other side you need to work on the weaknesses of opposition. The help of Video Analyst it's become more easier for us to explode the weaknesses of opposition and results shows our improvement it's self.

SELECTION OF THE TEAM:

PDCA announced the Tour Selection Committee as under.
Zafar Iqbal                    (Head Coach)
Fareed Uddin                (Assistant Coach)
Saleem Karim                (Captain)
Tour Selection Committee worked hard on the line of action been given by the PDCA Management and results shows our honesty and dedication.

IMPROVEMENT OF GAME:

As a Coach of Winning Team is Priceless, but me and my collogue Mr. Fareed Uddin believes there is a few technical aspects which could improve and Insha Allah we will work on it.

The boys been given the improvement plan, in which their weaknesses been mentioned and how they can improve and overcome to the technical issues.

Thanks with Regards,
ZAFAR IQBAL                                                   FAREED UDDIN
Head Coach                                                         Assistant Coach