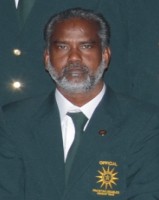 Tour Report: Amir Uddin Ansari Hon. Secretary PDCA
The recently held Disabled Cricket Series between England and Pakistan Disabled Cricket Team of Cricket in to a new are and a new format of Cricket is introduced on International Level and is now recognized by ECB and PCB as well the series was played in Global Cricket Academy from 11th Feb to 19th Feb. 2012.

The expense for holding the series in Dubai Global Cricket Academy were equally shared by PDCA and ECB Two T-20 and Three ODI (40 Overs) were played on the ground of Global Cricket Academy Dubai. Pakistan Disabled Team won the T-20 Series by a margin of 2-0 and ODI by 2-1.

Classification of Disabled Players was the main issue which was amicably resolved by the Officials of both the team after detailed deliberations and exchange of topographies of Disabled Players. It was resolved that only those players whose physical appearance is not normal shall be classified as Disabled Players. That complete decorum and discipline was aborted during the caurse of conduct of matches by players of both the teams and no incident in this respect was requested.

The standard of umpiring was highly satisfactory. Both print and audio / visual media covered the event in England as well as in Pakistan and huge coverage was given by the Newspaper of repute by publishing reports photography's of the Disabled Players in action. All the matches were attended by huge crowds who were thrilled by witnessing the play of Disabled Cricketers.

During the caurse of Disabled Series England and Pakistan National Team were present in Dubai. The England Team members visited the camp of Pakistan Disabled Players and offered them. Advice and good wishes similarly Pakistan Team also visited and encouraged the Disabled Players by giving them tips and advice.

The Chairman of ICC, ECB and Mr. Subhan Ahmed of PCB were also present in Dubai when the series was being played who were greatly impressed and surprised over the skill to play Cricket by Physically Disabled Players during some of the matches witnessed by them.

After conclusion of the series, Prize Distribution Ceremony was held which was graced by the presence of Mr. Haroon Logart, Chairman ICC, Mr. Zaka Ashraf Chairman PCB and General Manager of Dubai Sports City, Gifts and Souvenirs were exchanged between the Disabled Players.

The trophy was sponsored  by lord's taveem of London. On conclusion of cash match awards for different categories were awarded to the outstanding players and also man of the Series and Sumalar Medals were given to the Players who performed well.

Mr. Haroon Logart, Chairman ICC in his addren upon conclusion of Series declared the heralding of a new form of Cricket and Promised to put the item of Disabled Cricket on Agenda of next meeting of ICC executive Committee. Huge reception was accorded to the successful Disabled Team by the people upon arrival of team at the airport from Dubai.

The Disabled Series played between Pakistan and England Disabled Team was a huge success. Due to this landmark event the Disabled Team Players have proved their mettle that they are no less them the Physically Normal Players and that they do not want sympathy bat need cncouragement for performance and which was amply demonstred in the matches played. Last but not the least due to this Pioneering Disabled Series the noble cause of Disabled Players has attained attraction and recognition on International Level and has proved a great morale booster to the cause of Disabled the world over Disabled Cricket has now come to stay.
Amir Uddin Ansari
Hon. Secretary PDCA
Cell: 0314-239691